Resources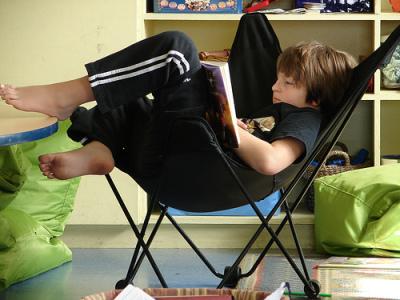 This resource section is a work in progress — we regularly add more links, so check back often!
---
PBH
Project-Based Homeschooling: Mentoring Self-Directed Learners
10 Steps to Getting Started with PBH
The Introvert's Guide to Building Community
What to look for in a DIY/Maker/hacker/tinkering group for kids
PBH Kids — a tumblr blog of authentic kid projects
---
Homeschooling/Unschooling/Learning
books:
Deschooling Society by Ivan Illich
How Children Learn by John Holt
How Children Fail by John Holt
The Hidden Lives of Learners by Graham Nuthall (about classroom teaching but full of insights)
Raising Lifelong Learners by Lucy Calkins (not really about homeschooling but highly recommended)
---
Reggio Emilia, Reggio-inspired practice
books (in order of recommendation — many of these are expensive; try to get them from your library or through interlibrary loan):
The Hundred Languages of Children
Authentic Childhood: Exploring Reggio Emilia in the Classroom
Bringing Reggio Emilia Home: An Innovative Approach to Early Childhood Education
First Steps Toward Teaching the Reggio Way
Next Steps Toward Teaching the Reggio Way
I specifically do NOT recommend Working in the Reggio Way.
online:
Three Approaches from Europe: Waldorf, Montessori, and Reggio Emilia
Examining the Reggio Emilia Approach
Aesthetic Codes in Early Childhood Classrooms: What Art Educators Can Learn from Reggio Emilia
Free downloadable pdf edition of ReChild dedicated to an early Hundred Languages traveling exhibit
Making Learning Visible: The Boys' City and The Girls' City — example of project documentation
The Ring-Around-the-Rosie Project — example of project documentation
Documentation: Transforming Our Perspective
My reggio-inspired pinterest board — lots of links here, some to Reggio-ish blogs
---
Project-based learning (PBL)
books:
While I've read many, many books on this subject, I can't really recommend any of them. They're primarily written in an academic style that's hard to digest. I would instead recommend the books on the Reggio resource page. (Long-term projects are part of Reggio and they pursue them in a much more flexible way.)
online:
I have a PBL Pinterest page that links to PBL-related articles.
Edutopia: Project-Based Learning
Inquiry-based learning
This is a nice free online workshop on inquiry-based learning.
A More Beautiful Question — lovely book about inquiry, not entirely focused on children
Moon Journals: Writing, Art, and Inquiry Through Focused Nature Study
Exploratorium: A Description of Inquiry
---
Learning in general
---
books about children's art:
Rapunzel's Supermarket: All about Young Children and their Art
It's Not a Bird Yet: The Drama of Drawing
In the Spirit of the Studio: Learning from the Atelier of Reggio Emilia
The Language of Art: Reggio-Inspired Studio Practices in Early Childhood Education
books for adult artists:
some of our favorite how-to books geared toward authentic art:
Making Things (the vintage volumes 1 and 2 are great but out of print; these are project ideas but no adult samples, very browseable!)
D.I.Y. Kids (same — bit craft-y but jumping-off points for kids' own ideas) (we also have the design deck but unfortunately it's out of print)
Do It Yourself Screenprinting (DIY) (aimed more at teens/adults but could be an adult-supported project for younger kids)
Drawing on the Right Side of the Brain (for adults but my son starting using it around age 10)
Indie Publishing: How to Design and Publish Your Own Book (more for teens/adults but older kids may enjoy/be inspired!)
Watercolor School (out of print; your library may have a copy!; mostly for older kids/teens)
kid/teen gift ideas (in addition to those above!):
kids:
Artist to Artist: 23 Major Illustrators Talk to Children About Their Art
Henri Matisse: Drawing with Scissors
The Boy Who Drew Birds: The Story of John James Audubon
Degas and the Little Dancer (and the others from the Anholt's Artists series)
teens:
How to Be an Explorer of the World (and Keri Smith's other books)
online:
My Authentic Art pinterest page
---
Children's Books
poetry:
My post about sharing poetry with children
The Anthology of Children's Literature — if you can find an inexpensive copy of this wonderful vintage book (I like the 5th edition best), it is full of classic children's stories, fairy tales, folk tales, poetry, book excerpts, and more.
The Complete Tales and Poems of Winnie-the-Pooh
The 20th Century Children's Poetry Treasury
favorite family read-alouds:
for younger kids:
The Anthology of Children's Literature — if you can find an inexpensive copy of this wonderful vintage book (I like the 5th edition best), it is full of classic children's stories, fairy tales, folk tales, poetry, book excerpts, and more.
The Complete Tales and Poems of Winnie-the-Pooh
The Little House on the Prairie series
Mrs. Frisby and the Rats of NIMH
Tales of a Fourth-Grade Nothing
Charlie and the Chocolate Factory
anything by Roald Dahl
From the Mixed-Up Files of Mrs. Basil E. Frankweiler
Harry Potter series
Lemony Snicket's A Series of Unfortunate Events (series)
Sarah, Plain and Tall (series)
Percy Jackson series
project-based children's literature (suggested by PBHers in the forum!)
Henry Reed, Inc. (several in a series)
The Boy Who Drew Birds: A Story of John James Audubon
For the Birds: The Life of Roger Tory Peterson
Me … Jane (about Jane Goodall)
You're a Genius, Blackboard Bear
Bon Appétit! The Delicious Life of Julia Child
Moe the Dog in Tropical Paradise
Little Bear's Dragon and Other Stories
Please send us more suggestions or project-based literature!
classic children's literature in our home library:
Andrew Lang's Fairy Tale books
D'Aulaires' Book of Greek Myths
D'Aulaires' Book of Norse Myths
The Adventures of Sherlock Holmes
Journey to the Center of the Earth
The Dark Is Rising (series)
---
children's books about writing:
Spilling Ink: A Young Writer's Handbook
places where kids can publish work online:
storybird - i know many people who use and love this site - and they also do illustrations: http://storybird.com
articles about storybird:
Commonsense Media review: Storybird
Storybird gives kids a safe and free place to read and publish
With 2 million members Storybird is reverse-engineering the picture book
storyjumper - purportedly similar to storybird; i'm not as familiar with this one
figment - for older kids
(and then there's wattpad for teens and adults)
magazines that publish kid writing:
stone soup magazine - a classic
magic dragon - no personal experience
creative kids magazine - no personal experience with this one
a list of places that will publish children's writing
and another one: for young writers
national writing project's list of online publishing opportunities for students
an app i know nothing about: Scribble Press
The LEGO Technic Idea Book: Simple Machines
All of the LEGO Technic Idea Books
The Unofficial LEGO Builder's Guide
Forbidden LEGO: Build the Models Your Parents Warned You Against!
tools:
LEGO Digital Designer: a free program for designing models on the computer
LEGO Ideas (formerly CUUSOO): submit your LEGO design and have people vote to make them real sets!
online:
forum thread: what to do with a LEGO obsession (lots of ideas here)
cool National Geographic video of lego designers working: Designing the LEGO City
free online scans of LEGO Idea Books at Peeron
the Lego Quest Kids blog is defunct now, but there are still 51 LEGO challenges in their archive
if you need special parts for a LEGO project:
for kids who like construction in general:
a list of essential 3-D art materials/construction toys
minecraft projects on PBH Kids
Handy Minecraft Tips for Parents
some advice in the forum about setting up your own Minecraft server
Intercraften — family-friendly Minecraft server (no griefing)
Minecraft Realms — a way to invite other people to play in your world without hosting a server
pbh'er-recommended kid-friendly Minecraft Youtubers:
books:
Raising Lifelong Learners: A Parent's Guide by Lucy Calkins
How to Talk So Kids Will Listen and Listen So Kids Will Talk
Raising Our Children, Raising Ourselves: Transforming parent-child relationships from reaction and struggle to freedom, power, and joy
The Whole-Brain Child — interesting book about helping kids integrate their emotions and their reason
Touchpoints by T. Berry Brazelton
The 7 Habits of Highly Effective Families
Ungifted: Intelligence Redefined
books recommended by others:
Raising An Emotionally Intelligent Child by John Gottman
Unconditional Parenting by Alfie Kohn
Easy to Love, Difficult to Discipline
Financial literacy/financial independence
The Only Investment Guide You'll Ever Need by Andrew Tobias
One Up on Wall Street by Peter Lynch
Self-employment/starting and running a small business
books:
Die Empty: Unleash Your Best Work Every Day
online:
a collection of good links at my Pinterest board Business Time
Living a better life
168 Hours: You Have More Time Than You Think
A Million Miles in a Thousand Years: How I Learned to Live a Better Story
The Defining Decade: Why Your Twenties Matter