Open thread: The psychology of parental control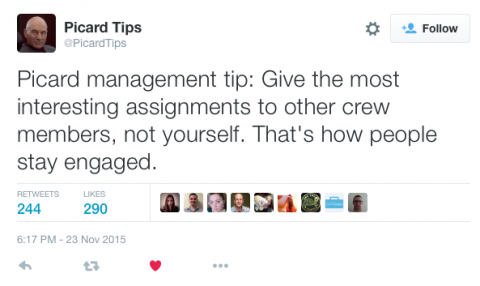 Classic PBH advice — Are you choosing the books, materials, and activities? Are you researching the field trip and making the fun plans? Let the kids do it! They'll be more engaged, they'll acquire more life skills, and they'll retain ownership over their work. The more we do, the less they can do.
Yet parents have said to me, "I like being the one who plans things. That's my role. It's fun for me."
Of course it's fun for you — but as Capt. Picard points out, how engaged are kids if you're the one doing the fun part? How much ownership do they feel when you're the one doing the important stuff?
I've been reading a great book called The Psychology of Parental Control: How Well-Meant Parenting Backfires, and one basic idea it shares is that parents don't just control kids through threats and punishment, they also control them through positive-seeming actions like rewards and managing their activities.
Some quotes for you:
"[P]arental control does not simply mean yelling or using physical punishment. … Some parents' most controlling behavior comes from their desire to provide the very best for their children and to be certain that their children are not missing out on a single opportunity."
"Parents and other caretakers can control through physical punishment, but they can also control through rewards and even praise."
"If the goal of a parent is to assist in the development of a self-reliant, competent individual, then there are many ways in which control, although well meant, backfires."
"If parental control is one end of the spectrum, what is its opposite? One answer is parents' support of autonomy in their children. Autonomy support is an active process, which involves taking a child's frame of reference, supporting independent problem solving, and involving the child in creating rules and structures. Using this approach, parents also provide choices for children and encourage their children to initiate their own activities. The goal of autonomy-supportive parenting is to facilitate a sense of self-initiation in children and to support their active attempts to solve their own problems."
It is easy to see how PBH aligns with autonomy-supportive parenting.
If we're the ones who choose materials, arrange activities, control the budget, make decisions, and take the role of providing exciting experiences both at home and on the go, we are maintaining control. That puts our child into a passive role. We have every good intention, but we rob our children of agency.
No matter how *awesome* the experience — and the life — we make for our child, they are passive and they don't feel ownership, agency, or control. They don't get the critical experiences they need to make their own awesome life — defined however they see fit.
— — —
We are constantly trying to explain to parents new to PBH that they shouldn't ask for resource suggestions but should instead help their child find their own resources.
The parents are confused — shouldn't they want to find the *best* books, the *best* resources, the *best* activities?
But that's a short cut, isn't it? Asking for help locating the *best* resources means you don't have to go out and laboriously find them yourself. It means you don't have to spend time checking out and bringing home and flipping through those books that looked good but were actually useless. It means you don't have to sift through a lot of possibilities online.
Of course, we don't want you to do that boring slog yourself — we want your child to do it!
Slowly locating the best resources seems like a waste of time. But it is how children learn. And it is never a waste of time for children to do their own meaningful work, at their own pace, in their own way.
When it comes to learning, we don't want to take a short-cut.
If they don't have the opportunity to compare and contrast different books and other resources and decide which are the best — which have exactly the information they need, which present it in the most easily understood way, which are more entertaining and fun to read — they don't develop the ability to do that. They don't practice critical thinking; they don't learn to set their own goals and make good assessments. They become passive recipients of other people's suggestions.
They may even look at the "best" book and think (silently), Oh well, this isn't what I wanted, so I guess what I wanted doesn't exist, since this is the *best* book.
They learn that the way to find what you need is to ask other people or find a blog post listing the "10 best" xyz. They are trained away from active, hands-on research. They don't develop the skills to wade through all the options and determine which best meet their needs and desires.
When we become a filter for our child, we take away their need to learn how to filter. When we depend on someone else to filter for us, we're choosing from a subset created by a random person who doesn't know us or our child. Our child is now two or more degrees away from doing their own research and making their own discoveries.
PBH is slow learning, and we should be in no hurry to find great resources. All of the work that goes into researching, discussing, comparing, rejecting, branching out, talking to experts, and so on — *that's why we're here*.
"The ways we control can be subtle and can be laden with good intentions.
Think of a small boy holding a bunch of tulips. To keep the flowers together, he grasps them tightly. By the time he arrives at his grandmother's, the stems are crushed. But he meant well. That same sort of thing can happen to parents who hold on too tightly to their children."
…and to their children's learning experiences.
"When children go through the motions, complying with adult directives and contingencies, even the positive outcomes they accrue — good grades, trophies, and so on — do not facilitate a positive feeling.
Only when the person feels a sense of ownership of his or her actions can positive experiences translate into healthy self-esteem and well-being.
The goal of parenting for positive self-esteem is not necessarily to ensure that things go right. Ultimately it doesn't matter if the child has one more trophy on the shelf.
What parents must do is to create conditions under which children can take pleasure in their own choices and accomplishments because they are theirs." — The Psychology of Parental Control: How Well-Meant Parenting Backfires
• • •
I haven't done an open thread in a long while, but I'm hoping to make it a regular Monday thing.
For those who haven't participated before, you can ask any question or share/discuss whatever you wish in the comments — it doesn't have to be related to the above discussion. The thread will stay live so don't hesitate to jump in after it's already been up awhile!