I'm here to disrupt your school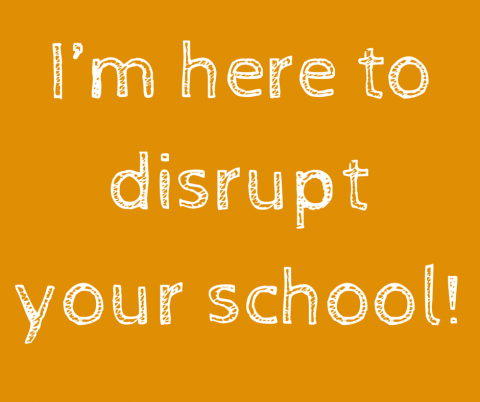 Dear Principal Jones, teachers, school board members, and parents,
My name is Carrie Smith. I'm here to disrupt your school.
People have been telling me for years that I shouldn't be homeschooling — I should be improving the lives of all kids, not just my own! This year, it finally sank in.
We've been homeschooling for 10 years and hoo boy, I think we've tried it all! Montessori, classical, unschooling — you name it, we tried it. That's what you do when you love your kids, I guess — you just keep fiddling with the recipe till you find what works. And now you'll all benefit!
Our oldest, Margaret, was six when we pulled her out of school, and she still struggles with needing a bit of structure. Even after all these years of homeschooling she has a hard time taking advantage of the freedom she has to do it her own way. Her self-motivation still isn't back 100%. But that's okay — fewer changes for you to make! Ha ha!
Unfortunately, Margaret is a real crank bear if she has to get up before 9. But it turns out there's abundant research showing that teenagers need more sleep and would benefit from a later start time. Circadian rhythms or something. I'm not sure how you'll work it out with working parents and your bus schedule and so forth, but I'll leave you to figure that out.
Carl is our oldest boy; he's 12. Now, self-motivation is not a problem there. He's never seen the inside of a classroom and he won't stand for anyone telling him what to do or how to do it! Self-directed learner all the way. He really thrives in maker situations. You've probably read about maker spaces online — they're all the rage. So much good stuff there, you're sure to love it. You'll have to mark out some really big blocks of time because the only way kids can think up their own ideas and then make them happen is if you clear the decks and throw your schedule out the window. I'll let you work out what you want to drop from your current schedule to accommodate that.
Now Carl is like a lot of 12-year-olds — I don't think the seat of his pants sees a chair all day. But no worries — talk about abundant research! Kids need to be up and moving around, not sitting down all day. And now they will be!
My younger daughter Luna is 9. She was born in France while we were living there for a year for my husband's job and even though she was only 3 months old when we left, she must have picked up something from the air. The girl doesn't walk when she can dance; she doesn't talk when she can sing. She paints all day long.
Of course an artistic soul like our Luna would be miserable in school with all of the cutbacks in art education over the last several years — but not anymore! Ha ha! We'll be reinstituting those art and music classes tout suite.
Our youngest, Joe, is 5. He's a special case, but all our kids are, am I right? Strangely, what's worked best for Joe is Waldorf, which didn't work at all with the other kids. Waldorf is a little bit picky about … well … everything! You'll see! I've prepared some handouts to send home about diet, special toys, no TV, and so forth. We'll be switching to a Waldorf curriculum in all of the Kindergarten classes immediately.
Finally, in closing, I would like to sincerely apologize for taking so long to wake up and see that I should be taking my educational improvements to the school and putting them in action there. I honestly didn't realize I had that power.
I mean, that's why we homeschooled in the first place — because we didn't think school could (or should have to, honestly!) accommodate the various needs of our four kids … not to mention the fact that we were figuring it all out as we went along! It certainly was a learning process.
Who knew that I could have stayed and improved things not just for Margaret, Carl, Luna, and Joe but for ALL kids. My husband and I had quite a laugh about it, I can tell you. I mean, we haven't been able to afford a family vacation in ten years! We would give each other a rueful look every year writing out our property tax bill, looking at all that education money we couldn't use — and now we can!
Best,
Carrie
P.S. See you on Monday!