Are we obsessed with children's interests? No, we're not.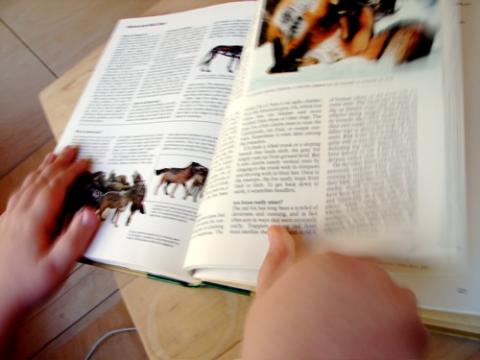 Here's an article I ran across this week:
Are we obsessed with children's interests?
Reading that title I preemptively started rocking back and forth and whimpering in anticipation.
The article is actually a very good description of how many educators whiff the opportunity to help children dig into their interests ("whiff" as in swing the bat but fail to connect with the ball).
A better title would be "Why do we keep giving kids OUR ideas and lame activities instead of helping them make their own ideas happen?" — because the problem isn't with children's interests, the problem is in how we respond to them. Let's toss out the bathwater, but please, please, let's keep the baby. Children's interests are key to generating the important ideas this writer values.
The problem isn't supporting children's interests, the problem is how we respond to them.
If we respond with attention and support in an environment where kids are in charge of doing what they want the way they want, interests are a gateway to deep and lasting learning.
If we respond to every question or spark of interest with a flurry of our own ideas, we take away children's autonomy — we make their ideas unnecessary. When autonomy goes, motivation and engagement follow.
The writer of this article bemoans the fact that teachers aren't engaging with children's thinking — a definite problem. But why turn on children's interests? Or our interest in their interests? That's moving a further step backward — now we want them to do challenging work in an area that WE have chosen. We're not just saying, "Your interests are crap — here, do this instead" … we're saying "School/learning isn't about doing things that interest YOU."
The last thing we want is to have children think of learning as something that has nothing to do with them.
You won't see children's best work if you maintain 100% control over what they do and how they do it. You won't help them become self-directed learners and doers. And you risk children coming to believe learning is "stuff other people give you to do and then they judge it and tell you whether you did it right or not."
The writer describes an unfortunately typical response adults have to a perceived interest — we do not want to do this:
"A recent example was an educator who noticed a small group of children playing 'restaurants' in the sand play area — on one occasion — and interpreted this to be children's interest at play. The very next day she had set up a dramatic play area in the shape of a restaurant and was ready with activities for menu making, cooking and a party for the mums that Friday. However, when the children arrived, they completely ignored the restaurant and went off on another 'interest' based play activity for the day."
All that work of creating a restaurant in the dramatic play area should, of course, be done by the children themselves — and it should happen organically, not because an adult suggests it. For it to happen organically, the environment must be ready, the interest must be genuine, and the adults hanging around must be attentive and appreciative without getting in the way.
As we say so often in the master class, the process itself teaches you how to support children's interests. If the interest fades away quickly, if you overstep and they tune out, if it is abruptly dropped because of a lack of space or materials — all of these outcomes help you figure out how to do better the next time. To become better, you must practice.
But this doesn't mean children's interests aren't key to the enterprise; it just means you need to do a better job of supporting children to make their own ideas happen.
I'm concerned about why "interest" is in quotes up there (and elsewhere in the article). Are interests not real? Not worthy of our attention? Are children's interests so fleeting they aren't worth bothering about? Is the writer saying the teacher in the example is confusing anything the children focus on for five minutes with long-term interests? (I'm hoping it's the latter.)
Agree 100% with what the writer says here:
We should seek those experiences that children return to time after time — and listen deeply to what children are telling us about the attraction of these experiences and how they might help us better understand our work with these children — rather than popping in and out of our meer cat holes looking for the puzzle, book, game or activity that we can give to children as our input in to this serious endeavour of searching for new meanings.
Yes, yes, yes. But I would add: If you're new to supporting your children to be self-directed learners, makers, and doers, you may very well want to practice on any old short-term interest that pops up. The way you respond to a short-term interest says a lot to your child about how you will respond to something that is deeply important to them. It gives you the opportunity to say, look, I'm here to help you do things that you want to do — NOT to take over. And it gives you a chance to practice offering attention and support while letting your child stay in charge.
Those short-term interests can also give birth to further interests and pretty soon you have a project that started one place and ended up quite another. Several short-term interests that are linked can become a long, in-depth exploration. If we focus too much on finding an "ideal" project, we may end up discarding a lot of useful experiences that help our children AND ourselves become better acquainted with what doing meaningful work is really like. 
I winced reading
 t
hrough the comments on this piece. Professional educators struggle to get on the same page about what interests are and how they should be supported. Some have no respect for children's very real interests in television shows, video games, comics, and so on — they are considered unworthy of deep attention. (If we discard children's real and immediate interests, how likely is it they will ultimately focus on more academic subjects?)
This kind of picking and choosing doesn't usually bode well for helping children make their ideas happen. When you start saying "this is okay, but that is not," you swiftly diminish your opportunities for success — and you leave your children a narrow path toward deeper work. We should be opening up possibilities, not shutting them down.
Remember: ANY interest is more likely to be investigated longer and more deeply if it is supported — if it's given space, time, materials, and attention. And children are more likely to do very long projects after they have experienced doing shorter-term projects — and you are not likely to be able to predict which is which before the work has even started.
I'm pretty sure that the author of this piece simply doesn't want us to be obsessed with children's interests to the exclusion of engaging with them intellectually about those interests. But clarity here is essential. Too many adults are struggling with this process. Stop paying attention to children's interests and you've lost before you've even gotten started.
If you're doing the hard work of paying attention to your child's actual interests and
supporting them without taking over
, you deserve celebration and support. It isn't an either/or choice — interests OR ideas. It is an if-then choice — if interests are supported, then ideas flourish.
We need to keep children in a space where their ideas are NEEDED.
This means immersion in something that is meaningful to them, where they have space and materials and support, and where we aren't getting between them and what they want to do, inserting our ideas instead of listening for theirs.
This is the where the work begins, not where it ends.
Supporting children to do challenging work means resisting taking over at every stage of the process. Their interest. Their ideas. Their plan. Their choice of materials. Their budget to control. Their judgment about whether they met their goals. And so on.
We need to be absolutely clear when supporting each other down this path that we can't have the good stuff at the end without doing the hard work at the beginning. We can't simply shift children's engagement,
motivation
, and commitment away from what they need and want to accomplish — school has been trying and failing to do that for a hundred years. Let's stay obsessed with children's interests and simply add being obsessed with their questions, their ideas, their thought processes, their suggestions, their plans, and every other part of what it means to be a thinking, learning, making, sharing, doing, whole person.